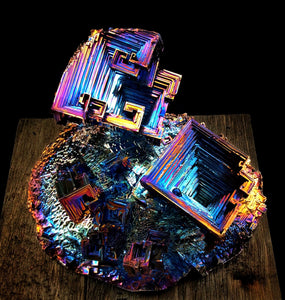 What It is
Although it is scarcer than silver in the earth's crust, bismuth is a little known element. In fact, there is currently only one mine in the world operated primarily for its extraction. I buy it, melt it and purify it. When it cools, the crystals form under a crucible of liquid metal as it slowly freezes. They come out of the molten metal the color of silver. Then they "choose" their own colors over the next few seconds, sometimes minutes. They gradually change from silver to gold to purple to cerulean, etc. The results are never the same but always amazing!
Once in the form I want for a given sculpture, the bismuth can be used to suspend a small magnet in the air indefinitely and without a power source. This is only possible due to the fact that bismuth is the most diamagnetic element in the world, explained further below.
How it works
Bismuth is not magnetic - it's diamagnetic. It repels the north and south poles of magnets equally. In my arrangements, the top magnet attracts the small magnet with enough force to lighten it. The diamagnetic force of the bottom bismuth crystal can then push the little cube or sphere off its surface. The magnet rises, but not so high that it gets sucked all the way up as it would without the bismuth. The top crystal, while not necessary, provides stability, and allows a fraction of a millimeter extra lift.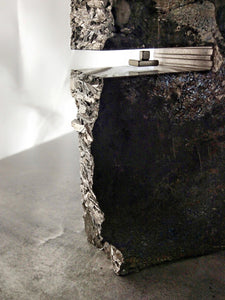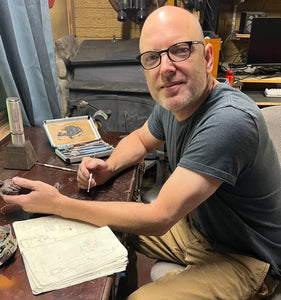 About the artist
I'm an artist in rural KY who loves science, or rather scientific phenomena. I can only take the organization required for actual science in small doses. Sculpting with electronics, painting with a potato cannon and making marvels with metal bismuth crystals are a few of the ways I blend my two passions. I get a charge out of teaching my children too, which is how I got started with the bismuth crystals.


My son and I decided to make a collection of the elements. We gathered as many as we could find from commercial items. It's amazing to see how everything in our sophisticated civilization is made up from the same basic building blocks, atoms. Bismuth, element 83, was a show stopper. Everything you see in my shop is a result of my never-ending fascination with this magical element.